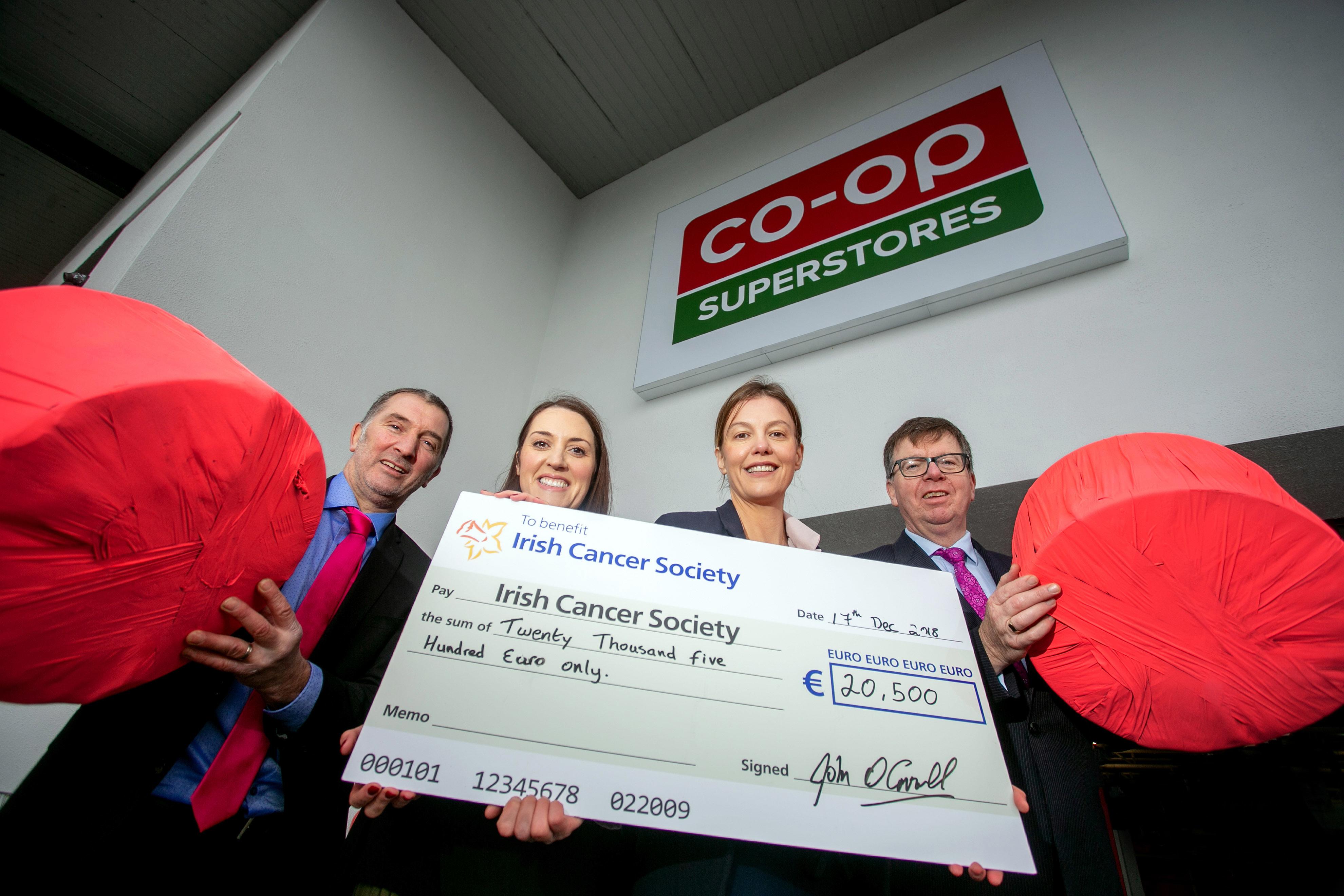 Farmers embrace PINK to raise €20,500 for the Irish Cancer Society
The fourth year of Dairygold and the Irish Cancer Society's Pink Partnership has seen €20,500 raised in support of the Irish Cancer Society, in particular breast cancer research and support for services and sufferers.
Farmers once again showed huge support in 2018 embracing the Wrap It Pink campaign during a challenging silage season. There was also huge support for Dairygold's "Cups Against Breast Cancer" coffee mornings which were held right across Dairygold from Head office to Co-Op Superstores across Munster during the month of October. These initiatives aim to raise awareness of breast cancer across rural Ireland as well as raising much needed funds for a very worthy charity. Pink silage bales are now a familiar sight in Ireland's landscape, reminding women of the importance of getting screened for breast cancer.
Commenting on the campaign, John O' Carroll, Head of Retail at Dairygold said: "We're delighted that our pink fundraising initiatives had another successful year with almost €70,000 contributed to the Irish Cancer Society to date. As Pink Partners of the Irish Cancer Society, we're proud to play our part in raising awareness of breast cancer among our farmer members and the wider rural community and we'd like to thank our farmer customers who came on board to support our various initiatives again this year".
Mark Mellett, Head of Fundraising at the Irish Cancer Society said, "Breast cancer is one of the most common cancers affecting women in Ireland, with over 3,100 women diagnosed with the disease every year. Wrap It Pink plays a vital role in raising awareness of breast cancer in rural Ireland and also funding vital cancer research and services to support those affected by the disease. Support from the Dairygold and their customers ensures that crucial care, information and support is provided for those affected by breast cancer by Irish Cancer Society Nurses in Daffodil Centres throughout Ireland and on the Cancer Nurseline 1800 200 700. This funding also helps to fund researchers to continue to find better ways to diagnose and treat this disease. Thank you to Dairygold and members of the farming community for supporting this wonderful initiative."