2018 – The Year in Review
As a busy year at Dairygold Co-Operative Society comes to a close, we reflect on some of the key highlights from the past 12 months.
Leanfarm – Ireland's First On Farm Lean Programme Launched
In February, Minister Michael Creed launched Dairygold's Leanfarm Programme, an initiative that extends Lean manufacturing principles beyond the factory floor to our farmers. Leanfarm helps drive continuous improvement and efficiencies with immediate benefits in time management, farm safety, greater output and a better work-life balance for farmers and their families.
Gulfood- Dubai
Dairygold Food Ingredients' Sales & Marketing team travelled to Dubai in February to attend Gulfood, one of the largest food ingredients shows in the world. With over 5,000 international exhibitors and almost 100,000 visitors, this was an exciting opportunity for Dairygold to showcase its high quality nutritional powders and cheese solutions.
Food Ingredients China – Shanghai
Food Ingredients China is the largest food ingredients trade fair in Asia and was held in the NECC Shanghai in March. Over the past 26 years, this fair has been an influential and cohesive event for the food ingredients industry in Asia and Dairygold has a longstanding history in attending this event in conjunction with our Chinese agent and distributor, Beijing Milky Way.
Mogeely Investment 
In April, Dairygold welcomed An Bord Pleanála's decision to grant permission for the development of state of the art facilities for the manufacture of Jarlsberg® cheese in Mogeely, Co. Cork. This new dedicated Jarlsberg® facility will significantly increase production capacity with a potential to produce up to 20,000 tonnes annually.
Cheese Awards Season 
Awards season arrived in the summer with Dairygold collecting 27 awards at the British cheese Awards, Great Yorkshire Show, International Cheese Awards, South West Cheese Awards, Global Cheese Awards and the World Cheese Awards.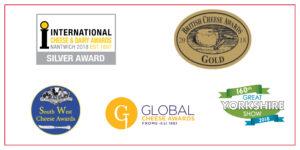 Lombardstown Agri Service Laboratory Opening
Dairygold's Agri Service Laboratory in Lombardstown held a highly successful opening event for Stakeholders in October. The Laboratory located on the site of Dairygold's mill, 10km from Mallow, reopened following an investment of close to €2 million. The laboratory boasts best in class facilities and is equipped to provide forage, nutritional, soil and grain analysis. The investment and expansion in services was undertaken to cater for the growing needs in the agricultural, environmental and consumer industry.
Wrap it Pink
The fourth year of Dairygold and the Irish Cancer Society's Pink Partnership saw €20,500 raised in support of the Irish Cancer Society. Farmers once again showed extensive support in 2018 embracing the Wrap It Pink campaign during a challenging silage season. There was also huge support for Dairygold's Cups Against Breast Cancer coffee mornings which were held right across Dairygold from Head Office to Co-Op Superstores across Munster during the month of October.
Dairygold/Teagasc Joint Programme Launch
In November, Minister Creed launched a new joint farm development programme between Dairygold Co-op and Teagasc aimed at providing the Society's Members with the best and most up to date information to maximise their profitability and sustainability at farm-level. The programme, which runs to 2021, follows on from the success of the previous programme which saw over 8,500 people attend Public & Special Interest Events held over the three-year period up to 2017.
China International Import Expo
Also in November, the China International Import Expo (CIIE) took place for the first time. The inaugural event was opened by Chinese President Xi Jingping in Shanghai, China. Ireland was among the 172 countries represented at the event that exhibited over 3,600 enterprises. Dairygold joined ten other Irish companies under the Bord Bia stand with the message of 'Enjoy it's from Europe' and 'Origin Green'.