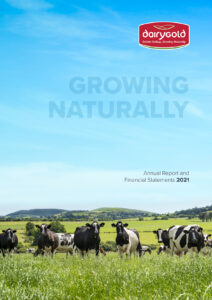 Dairygold delivers strong performance 
Dairygold Co-Operative Society Limited has announced its financial results for 2021. The Co-Operative delivered a record turnover of €1.17 billion, an increase of 15% or circa €152.0 million on the 2020 figure with an operating profit of €30.4 million. These results reflect the robust performance across all businesses within the Society despite the challenges of the COVID-19 pandemic.
View Annual Results 2021
The 2021 EBITDA figure was €57.6 million, an increase of €3.8 million, reflecting an increased level of profitability in the core business, benefitting from stronger trading performance, including increased volumes and improved efficiencies.
Following a decade of significant capital investment, Dairygold reduced its bank debt by €11.0 million to €108.2 million. This has resulted in an improved net bank debt to EBITDA ratio of 1.9:1, a decrease from 1.22:1 in 2020. At the end of 2021, the net asset value of the Society stood at €422.2 million, a significant increase of 34.5 million on 2020.
Commenting on the results, Dairygold Chief Executive Conor Galvin said:
"The Dairygold business is in a good financial and operational position. Following a decade of significant capital investment, the business has a strong EBITDA, manageable debt and a successful model for Member Funding. Our focus has shifted from milk expansion to creating more value per litre of milk. We are currently conducting a business wide strategy review which we hope to complete by the end of April. This strategy will provide a roadmap for the business for the next five to ten years, as we seek to continue maximising returns for our Members through higher margin activities while also meeting our crucial greenhouse gas reduction targets.
Dairygold Chairman John O'Gorman said; 
"The performance of the business during the Pandemic is testament to the resilience of the business and the capability and support of Dairygold's Members, Customers and Employees. Unfortunately, as we emerge from COVID-19 we now see the fragile geopolitical situation in Europe as a result of Russia's invasion of Ukraine. Dairygold's thoughts and prayers are with the people of Ukraine. Dairygold has made a corporate donation of €30,000 to the Irish Red Cross in an effort to support the humanitarian efforts. The ongoing invasion is presenting supply chain issues and directly impacting input costs for our Members. We will continue to identify mitigation measures that will be effective in addressing such issues for our Members."