Annual Report and Financial Statements 2022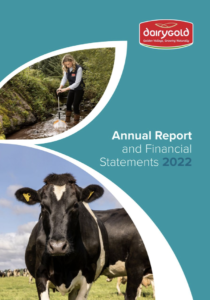 Dairygold delivers a very strong performance in 2022
Dairygold Co-Operative Society Limited has announced its financial results for 2022. The Co-Operative achieved a record turnover of €1.65 billion, an increase of 40.9% or €477.8 million on 2021, with an EBITDA of €68.5 million and operating profit of €40.2 million, an increase of 10.9 million and €9.8 million respectively.
View Annual Report and Financial Statements 2022
The significant increase in EBITDA and operating profit was achieved, against a backdrop of considerable volatility and inflationary pressures, while paying leading milk and grain prices, with an excellent performance delivered across all of the Society's businesses.
Commenting on the results, Dairygold Chief Executive Conor Galvin said:
"The Society delivered a very strong operational and financial performance. This performance was driven by maximising the unprecedented high market returns, achieving enhanced operational efficiencies, while managing volatility and significant inflationary pressures. This enabled the Society to pay very strong and extremely competitive prices to Members for their produce. The dairy industry and the volatile conditions within which it operates, continues to go through a period of significant uncertainty, with huge challenges to be faced, including sustainability, geopolitical tensions and ongoing market volatility. The last number of years have been very positive for the Society, and while we have a clear roadmap for the future 'Our Strategy Our Future 2030', we need to be cognisant of how these challenges will influence the future, to continue that success over the coming years. Making the appropriate and necessary decisions, to future proof farm enterprises and the Society, will be critical to deliver the short-term goals and long-term strategic ambitions of the Society and our Members."
Dairygold Chairman Seán O'Brien, commenting on the 2022 results, said:
"2022 has been a very good year for the Society, a testament to the capability and determination of the Society's Members, Employees and Customers. As we move further into a new year, high input costs, market volatility and the current geopolitical landscape continue to be a concern. We will continue to work in the best interest of our Members to alleviate the pressures of the volatile and challenging market environment, while also continuing to deliver on our Members' ambitions.